"You can imagine them in bed together."
That's what Tony-Award-winning director Michael Mayer has to say about the crackling first publicity image of Keri Russell and Adam Driver for their upcoming Broadway play, Burn This. "You feel this erotic and emotional connection very strongly," he adds.
The Star Wars: Episode IX costars are returning to the stage for the first ever revival of Lanford Wilson's Pulitzer Prize winning drama, which begins previews on March 15 with opening night set for April 16 at New York's Hudson Theatre. Brandon Uranowitz (Falsettos) and David Furr (Noises Off) round out the cast.
Russell and Driver lead the action as Anna, a professional dancer and choreographer, and Pale, a coke-addicted hyper-active restaurant manager, who are brought together when Robbie, Anna's dance partner and Pale's brother, dies in a mysterious boating accident. The play follows the explosive chemistry between these two strangers as Wilson probes love, lust, and the power of raw attraction in his smoldering, award-winning play. The original production of Burn This starred John Malkovich and Joan Allen in Driver and Russell's roles in a buzzy production that made the leap from its 1987 Off Broadway iteration to the Great White Way.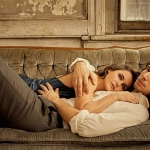 Mayer has circled around the play for some time, and was initially attached to an announced 2017 staging slated to star Jake Gyllenhaal which never came to fruition. The director finally gets to sink his teeth into the Pulitzer winner with a star-studded cast. "Lanford Wilson wrote a play 32 years ago for Adam Driver and Keri Russell to star in and they are going to do it justice," he teases.
In advance of the debut of this steamy image, EW called up Mayer to get all the details on why Russell and Driver are the perfect duo to remount this play, why he's drawn to provocative subject matter, and what makes Burn This one of a kind.
ENTERTAINMENT WEEKLY: Let's start with this photograph — it's quite sensual. Can you tell me more about the chemistry between Keri Russell and Adam Driver?
MICHAEL MAYER: We're about a week into rehearsals now. Even from the very beginning, the two of them have a wonderful ease with each other. The fact that they know each other a little bit already helps enormously because you don't have such a steep curve of physical comfort with each other, so that automatically gives us a leg up. They look fantastic with each other, and they have got clearly great affection for each other already. You couple that with the highly charged, emotional sexual tension of the scenes in the play. They're acting out one of those in that picture a little bit.
You've been wanting to do this play for awhile, even announcing a production that was going to debut in early 2017 with Jake Gyllenhaal. What is it about this show that speaks to you so deeply that you've been circling around it for so long?
Lanford Wilson is one of our best American playwrights, and this particular play of his, for me, captures the gigantic longing for connection and love that all of us feel. It's this giant human need for love and to be loved and to risk everything for that one great love. There's something very epic about the emotional life of the play that I find very compelling. I also think that Burn This really captures beautifully a moment in the history of New York City that is very special to me because it's around the time when I first moved here and started living my life as an artist in New York. It's set in the mid-80s, and there's something incredible about the resilience of young people in the mid-80s at a moment where you turned around and everyone was dying of AIDS. I do feel like this was Lanford's AIDS play. A young dancer dies at 24 and that is what generates the events of the play. I just remember so vividly that time — the sense of loss and the potential of loss of brilliant young people whose work wouldn't live on and how it was for all of us trying to make our lives and fall in love and make work that meant something in the face of a real calamity and a terrible moment. Certainly politically, it was a very difficult time which also resonates now but that's more under the surface.
This is the first time it's been revived since it debuted in the 1980s. Why do you think its taken so long and why is now the right time?
I would say that it takes a very particular group of actors to make the play live in its most vital and exciting, compelling form. We're just really lucky in this particular moment to have an actor like Adam Driver. We're reading the play now, and it feels like it was written for him – it's an unbelievable match of character to actor. And to have Keri Russell play Anna, that's reason enough to do this play.
Adam has this explosive, dangerous, unpredictable animal quality that really is this character Pale. And then you've got Keri, who is sensitive but sensible. You can see her weighing things trying to make the right decisions about her life, and yet, she's also really screwed up because she's just lost the most important person to her. She's grieving, and at the same time, trying to maintain equilibrium, and that's something that I think Keri does so magnificently. That feels very natural, and it feels like someone had her in mind when they wrote this — although, obviously, she was a child then.
Source: https://ew.com/