FX Cold War spy drama 'The Americans' season 2 quietly announced its late February season 2 premiere after the holidays this year, but given the most recent trailer, new footage has been few and far between. If nothing else, the Matthew Rhys-Keri Russell starring homeland espionage thriller has released its first new photo of the year, so what can we expect from 'The Americans' season 2?
Admittedly a bit light on details, the first new photos of the year so Philip and Elizabeth Jennings concerned in their cover travel agent office, Philip appearing to be on his way to a mission. As we recently learned from the season 2 footage, Philip and Elizabeth will have their own domestic investigation to handle, now that their daughter Paige has begun searching through the family belongings for evidence of her parents' double life.
So far, only bits and pieces of 'The Americans' season 2 have emerged since the first season finale, though we know that season 1 stars Annet Mahendru (Nina), Alison Wright (Martha) and Susan Misner (Sandra Beeman) have been upped to series regular, while Margo Martindale will return as Claudia for at least one episode. In addition to a lighter focus on the marital drama, we'll also see history start to catch up with the characters a bit, notably the deaths of Leonid Brezhnev and other Soviet leaders.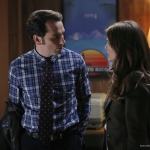 GALLERY LINKS:
– The Americans Episode Stills > 2×02 – Cardinal