'Dawn of the Planet of the Apes' (the sequel to 2011′s surprise hit 'Rise of the Planet of the Apes') has begun filming in Louisiana and we didn't have to wait long to get our first look at the new ape action. Director Matt Reeves tweeted out the first photo from the set this morning and shows us Caesar and his monkey friends have taken a big evolutionary step forward.
'Dawn of the Planet of the Apes' stars Andy Serkis as Caesar who's joined by Jason Clarke, Gary Oldman, Keri Russell, Toby Kebbell, Kodi Smit-McPhee, Enrique Murciano, Kirk Acevedo and Judy Greer. Director Matt Reeves ('Cloverfield' and 'Let Me In') takes over from Rupert Wyatt who didn't return for the sequel after "creative differences" with the studio.
In this photo, first tweeted by Reeves with the note "A New Dawn…" shows Caesar has learned how to ride a horse and, along with another ape, looks to be rounding up and talking (yes, talking) to some of the surviving humans. That's Jason Clarke out in front and you can see Keri Russell off in the back.
According to Fox, 'Dawn of the Planet of the Apes' goes like this:
A growing nation of genetically evolved apes led by Caesar is threatened by a band of human survivors of the devastating virus unleashed a decade earlier. They reach a fragile peace, but it proves short-lived, as both sides are brought to the brink of a war that will determine who will emerge as Earth's dominant species.
Considering the movie is called 'Dawn of the Planet of the Apes' we're going to go out on a limb and say that humans aren't going to win that war on who is Earth's dominant species.
'Dawn of the Planet of the Apes' hits theaters on May 23, 2014.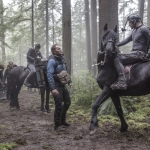 GALLERY LINKS:
– Dawn of the Planet of the Apes On the Set – May 10 2013