The cast of Star Wars: The Rise of Skywalker received a standing ovation as they took the stage at D23 in Anaheim Saturday. Filmmaker J.J. Abrams said the team was hard at work on a new trailer, but weren't quite ready, so they showed off a sizzle reel.
The footage included a fleet of dozens of star destroyers in the atmosphere of a planet. Rey (Daisey Ridley) and Kylo Ren (Adam Driver) appeared in a later scene, fighting on a downed ship in the middle of the ocean as waves crashed around them. The biggest crowd pleasing shot occurred at the end of the reel, with Rey wearing a dark hood, sporting a double lightsaber. The footage hasn't been released online.
The presentation also gave a first look at Keri Russell's mysterious character, who sports a helmet and a red suit. "She's very cool and a little bit shady. She's kind of a criminal, and an old friend of Poe's," Russell said.
Oscar Isaac, who plays Poe, pretended to comfort his co-star John Boyega. (Online, fans have expressed a desire for the two to have a romantic relationship.) "We were young. Everyone was experimenting," said Isaac to Boyega, who pretended to be upset.
The Rise of Skywalker is the end of an era for Star Wars and is billed as the conclusion to the nine-picture Skywalker Saga that began with 1977's Star Wars. The enduring sci-fi franchise will be taking a break from the big screen following December's Star Wars: The Rise of Skywalker, with the next feature film not scheduled for 2022.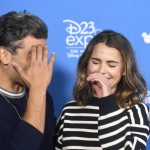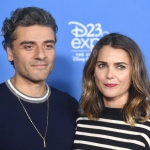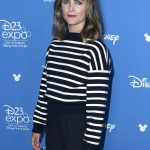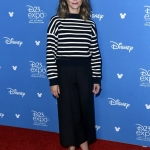 GALLERY LINKS:
– Events D23 Expo Disney – August 24 2019