Keri is featured in W magazine August issue. I have added outtake from this photoshoot to gallery.
"The Americans mostly takes place in the '80s, during the Cold War. Anytime you're wearing clothes that are unlike yours, it just heightens the moment. When I wear heels and silk shirts, slacks and blouses, it makes me feel like an adult. On the show, I wear a cat eye with black eyeliner, and it makes me feel like a panther. It's so unlike me as Keri—this tired mom in flip-flops and jeans. And I love that transformation."
Russell wears a Michael Kors Collection top; Philosophy briefs; Manolo Blahnik shoes; Louis Vuitton bracelet.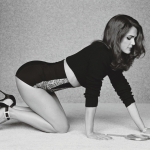 GALLERY LINKS:
– Photoshoots W – August 2017