Like last year Keri and Matthew attended again Brooklyn Bridge Park Conservancy Brooklyn Black Tie Ball. Keri was stunning in Johanna Ortiz dress which features a strapless neckline and a fluted silhouette.
Now in its fifth year, the Brooklyn Black Tie Ball returns to Pier 2 where the Manhattan skyline and sweeping views of New York harbor will serve as the magnificent backdrop for the evening's celebration of New York City's most spectacular waterfront park.
"I'm not joking, we come here three times a day," said actress Keri Russell, standing next to Matthew Rhys, her partner on "The Americans" and in real life.

"We have three kids, three different ages, and they all have their own thing to do here," Rhys said. The eldest shoots hoops. The 5-year-old plays soccer.

"We ride our bikes, baby on our back, with coffee," Russell said.

Next week, they start shooting the final season of "The Americans" — their last opportunity to show off disguises as undercover Russian spies pretending to be all manner of innocents.

"I like the really ugly ones," Russell said. "I have one that's sort of an old lady, grayish hair and glasses that's funny."
Rhys's favorite is the one with a dark, thin mustache. He calls it Fernando.

"That's the hot, sexy one," Russell said.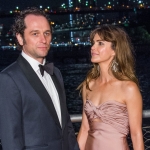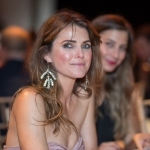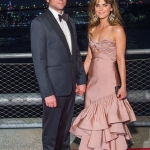 GALLERY LINKS:
– Events 2017 Brooklyn Bridge Park Conservancy Brooklyn Black Tie Ball – October 5 2017