The 10th Annual Evening Before the Primetime Emmy Awards party, benefiting the Motion Picture & Television Fund, was held at the Lawn in Century City.
The atmosphere was casual yet convivial; sportcoats took the places of tuxedos and cocktail dresses instead of gowns.
Among the nominees in attendance: "Mr. Robot's" Rami Malek and Christian Slater, "The Americans" costars (and new parents) Kerri Russell and Matthew Rhys, "Game of Thrones" star Kit Harington, and Cuba Gooding Jr. and David Schwimmer from "The People v. O.J. Simpson: American Crime Story."
In a statement, MPTF Chairman Jeffrey Katzenberg thanked all the guests.
""The Evening Before is a celebration of the achievement of a few, and an opportunity for the generosity of many, so that MPTF can provide care and service to everyone in our business. We are very grateful for the extraordinary support of our sponsors and industry donors at the Evening Before that supports the millions of dollars for the MPTF charitable programs and services conducted each year."
Attendees enjoyed food and hors d'oeuvres prepared by Jon & Vinny's.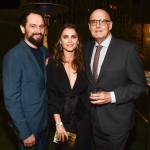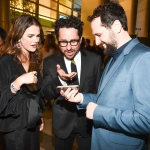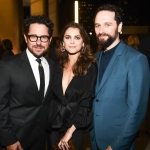 GALLERY LINKS:
– Events 10th Annual Evening Before the Primetime Emmy Awards Party – September 17 2016