Birth Name: Keri Lynn Russell
Birthplace: Fountain Valley, California
Birthday: March 23 1976
Keri Russell was born in Fountain Valley, California on March 23, 1976, to parents Stephenie and David Russell. Keri is the middle child of her family with an older brother, Todd and a younger sister, Julie. Growing up the family moved a lot due to her father's job at Nissan Motors, living in multiple states including Texas, Arizona and Colorado. She ultimately attended high school in Colorado at Highlands Ranch High School before moving to Los Angeles, California to start her career.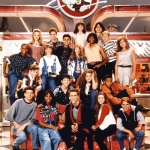 Keri began dancing at a young age, training in jazz, ballet and tap but she says her favorite style of dance is lyrical. In junior high school, at the age of 13, she joined the Mesa Stars Dance and Drill team in Arizona. The next year, when she was 14 she earned a scholarship to Star Struck dance studio in a suburb of Denver, Colorado, where she danced for 30 to 40 hours a week. It was there where she was spotted by a photographer who encouraged her to get into modeling, but ultimately she decided it wasn't for her. However, it was that brief stint in modeling that first got her noticed by Disney and led to a role in the movie Honey I Blew Up the Kid. At the age of 15, Keri attended an open casting call for the Disney Channel's The All New Mickey Mouse Club and was cast on the show. She was a regular for three seasons from 1991-1993 until she was 17 years old. Keri is still friends with her MMC co-stars including Ilana Miller and Lindsey Alley. The Mickey Mouse Club is also where she met her first boyfriend Tony Lucca.
After wrapping The Mickey Mouse Club, Keri moved to L.A. and landed several small jobs including guest spots on sitcoms Boy Meets World (1993) and Married with Children (1995), a role in Bon Jovi's music video for Always (1994), and a series regular role on the short-lived sitcom Daddy's Girls (1994). In 1996, Keri starred in the (also short-lived) Aaron Spelling created teen drama Malibu Shores with her on and off boyfriend Tony Lucca. Over the next few years Keri appeared in several made for TV movies including The Babysitter's Seduction (1996), The Lottery (1996) and When Innocence is Lost (1997); and two theatrical movies Eight Days a Week (1997) and Deadman's Curve (1998) before getting her biggest Hollywood break.
In 1998, Keri Russell auditioned for the J.J. Abrams and Matt Reeves television pilot Felicity.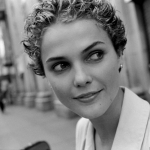 After several rounds of auditions she eventually earned the part of the title character, which would end up being a career defining role for her. The series ran for four seasons on the television network the WB. In 1999, during the show's second season, Keri famously cut all her hair off for a storyline. The haircut is still talked about to this day and is often blamed for Felicity's second season ratings decline. During her tenure on Felicity, Keri was romantically linked to her co-star Scott Speedman. Though their relationship didn't last, the two remain friends to this day. In 2017, while both coincidentally appearing on Jimmy Kimmel Live on the same day, Scott joked about being a "disaster of a boyfriend".
After four seasons of Felicity, Keri, just like her character, left California to live in New York City. Keri enjoyed a few years out of the Hollywood spotlight, going out with friends, reading books and hanging out with her cats. It was during that time she met her first husband, Shane Deary through mutual friends in 2004. 2004 also marked her return to acting when she starred in the off-broadway play Fat Pig. She then went on to star in The Upside of Anger, The Magic of Ordinary Days and Into the West all of which were released in 2005. In 2006, she reunited with Felicity co-creator, J.J. Abrams for a small role in Mission Impossible III and also starred in the movie Grimm Love.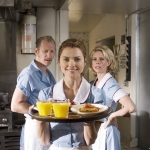 2007 was a big year for Keri both on and off screen. On-screen she starred in the indie darling, Waitress and two other films A Walk in the Park and August Rush, as well as a two episode stint on the NBC sitcom Scrubs. Off-screen she married her long time boyfriend Shane Deary in a small Valentine's Day ceremony (Feb 14, 2007) and the couple welcomed their first child River Russell Deary on June 9, 2007.
For the next few years Keri went on to star in a several movies including Bedtime Stories (2008),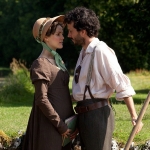 the animated voice of Wonder Woman (2009), Leaves of Grass (2009) and Extraordinary Measures (2010). In 2010, she returned to television, staring in the FOX sitcom Running Wilde with Will Arnett. Unfortunately, the show was cancelled by FOX after its initial 13 episode run. After the show ended she went on to make a few more movies including Goats (2012) and Austenland (2013), the latter which she filmed in late 2011 while pregnant with her second child.On December 27, 2011, Keri gave birth to her daughter Willa Lou Deary.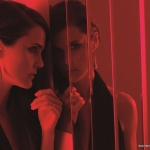 In early 2012, just weeks after giving birth, Keri was approached to star in the FX series The Americans. Despite turning down the opportunity repeatedly, she eventually went on to have a meeting with the series co-creator Joe Weisberg. After lengthy negotiations she signed on as the lead role of Elizabeth Jennings. The Americans has run on FX for the past five seasons and will air its sixth and final season in 2018. In between filming seasons of The Americans Keri has also made a few movies including Dark Skies (2013), Dawn of the Planet of the Apes (2014) and Free State of Jones (2016).
On the personal front, Keri separated from her husband of six years in the summer of 2013. Always private about her personal life, she spoke very little about their split only announcing it months after it happened. In 2014, it was confirmed she was dating her co-star on The Americans, Matthew Rhys. The two were initially tight-lipped about their off screen relationship and though they remained extremely low-key, it was revealed in January 2016 that they were expecting a baby together. In May 2016, Keri gave birth to a baby boy named Sam Evans (Matthew's legal last name).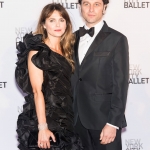 Currently, Keri and Matthew live in Brooklyn Heights, NY with their three kids River, Willa and Sam. In her (little) free time she enjoys reading, hiking, biking and loves being outdoors. The two are often spotted riding their bikes around Brooklyn or walking in their neighborhood with their children.